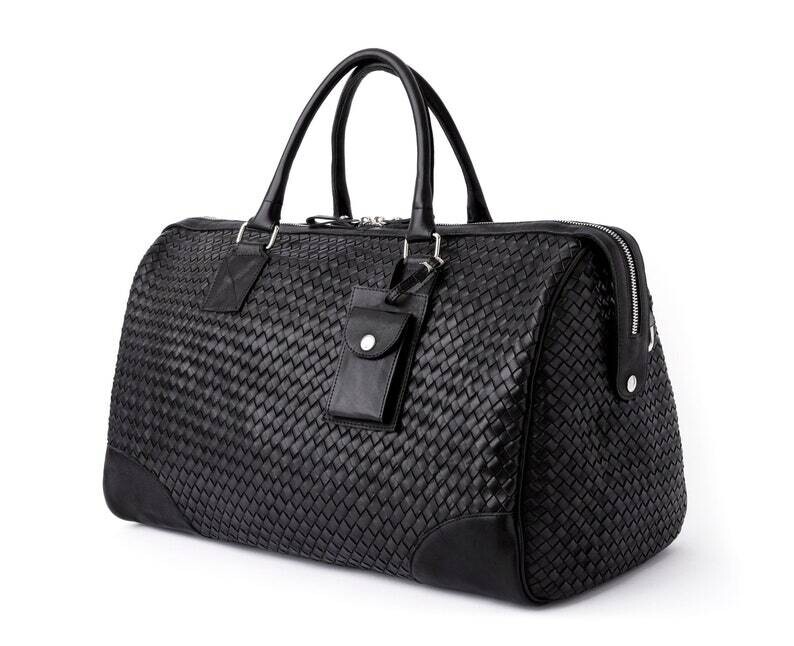 Leather Duffle Bag, Black Travel Bag
LPRMS-1154792
Product Details
Experience the epitome of luxury craftsmanship with our hand-woven leather duffle bag. Each bag is a true work of art, meticulously crafted by our skilled artisans with over 20 hours of handiwork put into each one.

The Woven Leather Duffle is made from the finest quality leather that develops a beautiful patina over time, adding to the character and uniqueness of the bag. These bags are both durable and elegant, able to withstand the rigors of travel while exuding a sense of refined sophistication. The intricate hand-woven design gives our bags a unique and distinctive look that is sure to turn heads.

With a roomy interior with 2 deep zipper pockets, this bag is perfect for 3-5 day trips and will keep your belongings organized and secure. The comfortable shoulder strap ensures easy portability, making this an ideal travel companion for the discerning traveler who values both style and functionality. Upgrade your travel essentials with the epitome of luxury craftsmanship: our Woven Leather Duffle Bag.

100% handcrafted
No artificial, synthetic, or cardboard used
We have used the premium and most durable form of leather: Vegetable Tanned Full Grain Leather
Sturdy YKK zipper
Heavy duty internal cotton lining
Airline carry-on friendly
Interior features 2 wide zipper compartments
Adjustable, removable leather shoulder strap
Feet on the bottom to avoid scuffing

* Dimensions:

Height: 32 cm | 12.6"
Width: 55 cm | 21.6"
Depth: 28 cm | 11"
Handle drop: 18 cm | 5.9"
Save this product for later